The State of Blackjack – Opportunity Amidst the Apocalypse?
Posted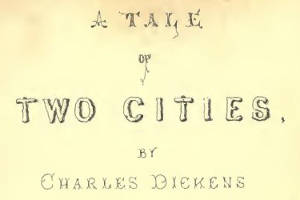 Charles Dickens may as well have been describing recent developments in casino blackjack…
"It was the best of times, it was the worst of times."
Rules and conditions at casino blackjack tables have been steadily declining for years, and there are a lot of really bad games out there.
6:5 Has Spread Far and Wide
I just tallied up the games offered in Las Vegas, based on the latest issue of Current Blackjack News. A depressing 40% of the regular blackjack tables in Las Vegas now pay only 6:5 for blackjack.
A $10 bet on these games only wins $12 when you get blackjack instead of the normal $15 that is paid on a 3:2 table. For more on 6:5 blackjack, see Just Say No!
The situation is actually far worse for low-limit players. Most of the remaining 3:2 tables have higher minimum bet limits. Generally, on the Las Vegas Strip, you will not find a 3:2 game with less than a $25 or $50 minimum bet. There are a few exceptions, but not many.
Continuous Shuffle Games Are Also Common
Another problem is the spread of the CSM… the continuous shuffle machine. I'm not talking about machines used to shuffle all the decks after the cut card is reached, but instead the variety where the dealer is constantly adding the used cards back into the shuffler. These machines eliminate the ability to count cards, since the used cards are almost immediately available to appear in the game again.
Now, personally, I don't care if casinos put a continuous shuffler on the 6:5 games. These games are already unplayable. Who cares if they make them even more unplayable! But the 3:2 games are a different matter. And unfortunately, nearly 5% of those games in Vegas are also dealt from continuous shufflers now.
Casual Players Get the Worst of It
Although more than half the tables in Vegas are still traditional 3:2 games without a CSM, you will not find many of those games at the casinos that are most commonly visited by tourists. A typical weekend visitor to the city is likely to end up on the Strip where a low-limit player is going to see endless rows of 6:5 instead. To find the playable games, you really need to hit the locals casinos or head downtown.
And the same is true in many other parts of the country. Lower limit tables are often now 6:5. Some casinos offer nothing else.
"Blackjack apocalypse" may be an exaggeration, but conditions are indeed much tougher now than they were just five years ago. For a beginning player who doesn't have the bankroll to play the needed spread on higher limit games, it can be very difficult to find an acceptable game.
So how can there possibly be a flipside to this sad tale? What about Dickens' "best of times"?
Casinos Proliferate Across the Country
For decades, casino gambling along the east coast of the US was limited to just Atlantic City. The monopoly of AC has been steadily diluted over recent years, as more and more states in the area have added casino gambling to help solve their budget problems. You can now play blackjack in most states in the East and Midwest.
With all these new casinos opening, there are more opportunities than ever to play profitable casino blackjack. When casino gambling moves into a new area, it can be difficult for casinos to find experienced personnel to deal and protect their games. As a result, a player who has the time and bankroll needed to travel and play in many areas can find more beatable games than ever.
The rules for blackjack are often better in far-flung casinos, and pit and surveillance personnel are rarely as eagle-eyed as in the experienced Vegas market. New casinos also often tend to offer exploitable promotions and marketing offers. Poorly trained dealers create yet another kind of advantage. For skilled players whose bag of tricks extends beyond traditional card counting, the new venues can be even more lucrative.
Well-Bankrolled Travelers Have the Best of It
For the experienced and skilled player who has the bankroll needed to take advantage of all these new markets, times have rarely been better. There are plenty of full-time players out there, racking up the miles commuting between the major new markets, and making more money than ever. And for now, that is a trend that does not seem endangered at all.
While the CSMs and 6:5 games are spreading into these markets already, most of these casinos are finding out that competition is very tough, and they can't just take out all the good games like the Strip casinos have. Vegas has something these markets do not. Vegas is a destination market where many of the visitors no longer care whether the games are good or bad. That's not the case for casinos in Pennsylvania, or Delaware, or West Virginia. In most of these areas, there are simply too many casinos and not enough players. That is a recipe for profits for good players. With so many venues available, getting backed off from playing blackjack at a particular casino is only a momentary inconvenience. Just move on down the road to the next place.
So the beatable games are out there, probably a lot more than you think. If your situation allows you the flexibility to take advantage, it really can be "the best of times". But If you're forced to play only in your local area, or don't have the bankroll to attack the games and afford the expenses of travel, well, yes, times are tough.
---
It was the best of times,
it was the worst of times,
it was the age of wisdom,
it was the age of foolishness,
it was the epoch of belief,
it was the epoch of incredulity,
it was the season of light,
it was the season of darkness,
it was the spring of hope,
it was the winter of despair…