If you've ever played blackjack online before, I think you'd agree that you're always wondering:
Is this game rigged?
How different is this compared to playing at the casino?
Well online casinos have heard your thoughts and have come up with a solution to ease your concerns by providing a much more transparent and real experience to substitute that annoying RNG dealer.
Live blackjack dealers.
In this article we're going to look at how live blackjack works, how they compare to RNG blackjack and where you can play safely for real money.
Bovada Casino
We recommend Bovada because:
Established since 2007
Accepts Bitcoin
Accepts US Players
Mobile Compatible
PLAY NOW
We recommend using Bitcoin for faster speeds and no fees. If you are not sure how to do this read our guide here
The latest evolution of online casino gaming allows you to play blackjack against a real physical dealer which you can see over a live video stream in real time.
So just like visiting the local casino, the live action thrill is much more present as you can chat and interact with not only the dealer, but other players and viewers on the table.
All of this is provided to you through a live stream on your desktop or mobile device however the dealer, and any other players will NOT be able to see you which should ease any privacy concerns.
All of the actions the dealer makes are visible and as he/she deals the cards, you will prompted on your screen on what options to take. This is achieved through microchips that are attached to each card so the software knows what the values are and can track your chosen actions accordingly.
RNG Blackjack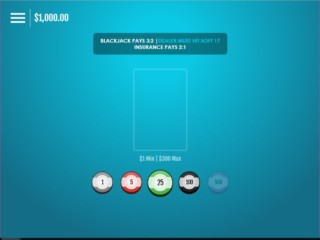 RNG (Random Number Generated) blackjack are the standard computerised games that are found at all online casinos.
These are powered by software that perform intricate mathematical algorithms to simulate the shuffling of multiple cards so that the result is a fair system that mimics playing with actual cards.
The benefits of playing RNG blackjack is that you can play at a much faster pace (or slower if you prefer) than normal and most online casinos offer a multitude of variations to choose from.
Now is it possible for these type of games to be rigged? Absolutely. This is why we list reputable online casinos only on blackjackinfo where their games are audited by third parties to ensure fairness. However, the live blackjack option certainly does give more comfort because you can visually see the cards being dealt by a human dealer
Live Blackjack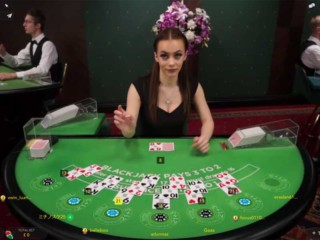 Live dealer blackjack allows you to play against a human dealer in real time so there is no RNG used. The gaming experience is much more realistic as you can interact with the dealer and other players on the table through a live chat function.
The negative aspect of live blackjack is that you can't decide how fast/slow a pace you want to play because there are other players on the table waiting for you to make a decision. Each casino will have some sort of visual indicator to show you how much time you have remaining to make a decision. If time expires then the lack of response is interpreted as a stand.
Also note that streaming the live feed of the dealer requires a lot of data so be sure to have a stable and fast internet connection or it may turn out to be a more frustrating experience instead.
Just like in normal RNG online blackjack, the type of live blackjack variation and rules offered depends on the software provider the casino chooses to use.
Let's go over a few of the popular providers so you can see the difference
Visionary Gaming
Visionary Gaming is the software provider that powers the live dealer games of all US casinos and interestingly uses only 6 decks as opposed to the usual 8 seen in other providers.
They have two variatons called Normal and Early Payout which also allow for Side Bets which can make things interesting. You can read more about Visionary Gaming here. They have a house edge of around 0.58% (RTP 94.2%) for their regular tables.
Evolution Gaming
My personal favourite, Evolution Gaming has live dealer studios based in Latvia and are known for providing highly energetic and entertaining dealers. Their platform was built specifically to provide casinos with live dealer games.
While Blackjackinfo is filled with information about strategy, sometimes all you want is fun and Evolution Gaming powered casinos are the best at providing an entertaining live blackjack experience.
They use 8 decks and have a house edge of about 0.73% (RTP 99.27%) with the options for side bets called Perfect Pairs and 21 + 3. You can read more details about their rules and variations in our complete review here.
Playtech
Playtech have been a software provider for online casinos since 1999 and have rapidly expanded their catalogue to include live dealers.
To stand out from it's competitors, Playtech look to be the first in implementing live blackjack dealers for specific languages. They currently have a staggering 500 dealers who are well trained and cater to audiences from the UK, Italy, Spain and Romania.
They have several blackjack variations but their regular tables use 8 decks with the option to sidebet on Perfect Pairs.
Sparing no expense, Playtech built a large studio of 8,500 square metres in Latvia back in February 2017 and have clearly set their goal to be the leader in the live dealer space.
You can read our complete review of Playtech's live dealers here.
Extreme Live Gaming
Founded in 2013, Extreme Live Gaming has a studio based in London and offers live blackjack with 8 decks similarly to other providers.
What sets them apart however is their "LiveBox" product which streams a feed from an actual land based casino where you can place bets alongside people inside the venue itself.
Unfortunately this is only available for their roulette games but it will be interesting if they ever provide this experience for blackjack at some stage
Live Blackjack for US Players
As discussed in our online blackjack for real money guide, the US passed a law in 2006 called the UIGEA which made it illegal for banks and other financial institutions to process transactions that related to illegal online gambling.
The solution to this was for casinos to move their operations overseas where they could then legally accept US players however, there have not been many that have been able to do so leaving US players with very limited options on where to play.
The two largest and most reputable US casinos that provide live blackjack are Bovada and BetOnline.
Considering all actions the dealer makes is visible to multiple players/viewers, it would be extremely difficult for a casino to rig blackjack.
HOWEVER:
Having said that there was an incident that went viral in February 2017 where video footage of a dealer dealing cards in a peculiar manner lead many to believe BetOnline was intentionally cheating.
There is no concrete evidence that this was either an accident made by the dealer or purposeful second dealing. It does make you wonder though, since it's so easy to record video footage of gameplay, why would a casino even attempt to rig their games in a manner like this?
No. While they all practically offer the normal RNG style blackjack, it takes a lot of resources to provide a solution for live blackjack so many of the smaller casinos are unable to provide it
Yes. Although the interface can get a little bit annoying on a small screen, there are several casinos that do provide live blackjack solutions for mobile
If you've ever been curious where twitch streamer sodapoppin plays, he plays at BetOnline which is a US casino brand.