Is it Legal to Play Online Blackjack in the US?
In short; There is no federal law against playing blackjack online. There are some states where it is declared illegal however prosecution would be extremely rare and would most likely be against any establishment rather than the player.

It is completely safe to play blackjack online for real money.
It's often reported that playing blackjack online for real money is illegal in the US.
But is it really?
Let's tackle this head on and resolve this confusing and commonly misunderstood issue.
So let's get one thing straight:
Playing Blackjack Online is NOT Legally Prohibited in Any Way by Federal Law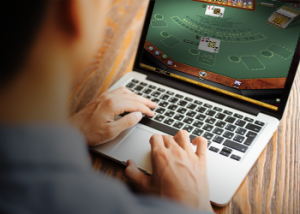 There is no law whatsoever against gambling online at the federal level which is a myth that has been established most likely from a misinterpretation of the Unlawful Internet Gambling Enforcement Act of 2006 which states:
The Act prohibits gambling businesses from knowingly accepting payments in connection with the participation of another person in a bet or wager that involves the use of the Internet and that is unlawful under any federal or state law (termed "restricted transactions" in the Act).
This is basically saying it's prohibited for banks to knowingly accept transactions that are a result of an illegal online bet.
It does not in any way state that it is illegal for a player to participate in gambling online!
Another reason why some people may think it is illegal is the confusion of the Federal Wire Act which is related to sports betting and does not apply to whether online blackjack is legal since they are considered different forms of gambling.
Play Blackjack Live Online
If you want to try playing blackjack online for real money, we recommend US players to visit Bovada casino.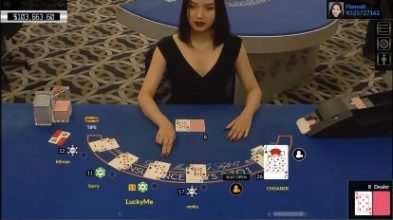 Are There any State Laws which Explicitly Allow Online Blackjack?
Another reason why it's confusing to determine whether it's legal to gamble online is the fact that most states actually don't have any specific laws which apply to online gambling in general.
If there is no specific law prohibiting online gambling then it is considered legal.
However there are three states that have explicitly passed laws specifically for allowing online gambling which are:
Interestingly, Nevada has allowed for online poker and sports betting but have prohibited online casino gambling.
States Where Online Blackjack is Technically Illegal
Illinois
Indiana
Louisiana
Montana
Nevada
Oregon
South Dakota
Washington
Wisconsin
There are 9 states that have prohibitions against online casino gambling however it should be noted that the real target of these laws are the online casinos themselves and not the player.
The likelihood of being criminally charged is extremely low and even if you were it would most likely be considered just a misdemeanor
There is only one incident I have been able to find dating back to 2003 in North Dakota where a player, Jeffrey Trauman, plead guilty for placing a bet over $500 and was charged with a misdemeanor and subsequently fined $500. (source: https://digitalscholarship.unlv.edu/cgi/viewcontent.cgi?article=1146&context=grrj)
So for further clarity, let's look at a table of all states so you can easily distinguish the laws of the state you reside in.
| State | Legal? | State | Legal? |
| --- | --- | --- | --- |
| Alabama | Yes | Montana | No |
| Alaska | Yes | Nebraska | Yes |
| Arizona | Yes | Nevada | No |
| Arkansas | Yes | New Hampshire | Yes |
| California | Yes | New Jersey | Yes |
| Colorado | Yes | New Mexico | Yes |
| Connecticut | Yes | New York | Yes |
| Delaware | Yes | North Carolina | Yes |
| Florida | Yes | North Dakota | Yes |
| Georgia | Yes | Ohio | Yes |
| Hawaii | Yes | Oklahoma | Yes |
| Idaho | Yes | Oregon | No |
| Illinois | No | Pennsylvania | Yes |
| Indiana | No | Rhode Island | Yes |
| Iowa | Yes | South Carolina | Yes |
| Kansas | Yes | South Dakota | No |
| Kentucky | Yes | Tennessee | Yes |
| Louisiana | No | Texas | Yes |
| Maine | Yes | Utah | Yes |
| Maryland | Yes | Vermont | Yes |
| Massachusetts | Yes | Virginia | Yes |
| Michigan | Yes | Washington | No |
| Minnesota | Yes | West Virginia | Yes |
| Mississippi | Yes | Wisconsin | No |
| Missouri | Yes | Wyoming | Yes |
If You Are Unsure, Seek Legal Advice
When in doubt, seek professional legal advice: This website serves to provide players with advice and is not legally binding. Therefore, if you ever have more nuanced questions, do consider consulting a legal professional.
How would I deposit and withdraw money given the UIGEA and Where Can I Play?
The UIGEA has made it considerably more difficult for US residents to deposit and withdraw money from casinos. For example, e-Wallet services such as PayPal or Moneybookers, which are commonly used to transfer funds to/from casinos, usually will not work with US residents engaging in online gaming. We recommend US players avoiding these in general.
Most often, players from the US will be able to use debit cards, direct bank wire transfer, checks, and automated clearing house (ACH). The best method though is to use Bitcoin which is extremely quick and doesn't have any excess fees. Read our complete guide on how to buy Bitcoin to deposit at a casino here.
For US residents outside of New Jersey, Nevada and Delaware, we recommend playing at Bovada or Betonline.
Related Reading
---
FAQ
The most recent prosection recorded incident occurred in 2003 where a player was fined $500 and charged with a misdemeanor.
Offshore online casinos do not fall under US jurisdiction so we highly recommend sticking to well known brands such as Bovada or BetOnline.
Pennsylvania has been the most recent state to legalize online gambling and it is expected that West Virginia will be following suit by 2021.
Yes.  Since they are located offshore, they do not have to abide by the restrictions made by the UIGEA
Yes, but as with participating in any service online, it is up to you to do your own due diligence before making any wager.  While we can recommend reputable various online casinos to play at, we insist that you read the terms and conditions at any online casino so you know exactly what is involved.