Is it legal to play online blackjack in the US?
The legality of engaging in online gambling in the United States is far from straightforward, but here we attempt to distill it into a series of questions and answers that take you through the question of legality and then the process of engaging in online gambling as a resident of the US.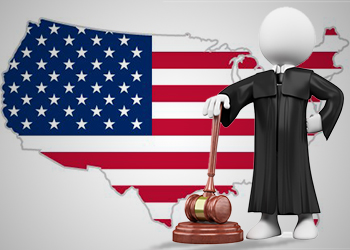 Before proceeding, we would always like players to bear in mind the following:
We encourage only legal play: Our goal here is to inform you about what is legal and how one could legally play Blackjack for money online. There may be ways to cleverly skirt around regulations or play in such a way that is illegal but unlikely to be enforced, but we do not in any way encourage this.
When in doubt, seek professional legal advice: This website serves to provide players advice and is not legally binding. Therefore, if you ever have more nuanced questions, do consider consulting a legal professional.
Here, we look at Blackjack only: In the context of this article, we only focus on Blackjack. This is important to point out because laws tend to take on even greater nuance when it comes to various types of gambling, such as lotteries, horseraces, slots, Bingo, and others.
This article also presumes that gamers are interested in playing Blackjack for money, ie actually engaging in gambling.
Is playing Blackjack online legal in the United States?
The answer is: it depends on the state.
On the federal (nationwide) level, there are no laws that prohibit online gaming, although there is a law, the Unlawful Internet Gambling Enforcement Act (UIGEA), that prohibits financial intermediaries from transferring funds to and from institutions which may have engaged in "unlawful internet gambling." Interestingly, the UIGEA fails to define what "unlawful internet gambling" actually is.
Therefore, in the absence of a precise definition on the federal level, the onus falls on the individual states.
So, in which states is playing Blackjack online illegal?
State laws vary considerably to the degree to which they allow or disallow online gaming. Some, such as New Jersey, have no ban at all on internet gaming and players there can partake in a number of regulated casinos online with no restrictions. Others have banned various forms of gaming and impose fairly harsh penalties on players.
Given the sheer number of states, and because laws change frequently, we recommend you visit a site that tracks this regularly (such as: https://latestcasinobonuses.com/restrictions/usa) or simply follow legislation in the state you're interested in.
So, if engaging in online gaming is illegal in your state, then do not gamble online, regardless of whether or not a casino will accept gamers from the United States.
Do take note that your state is considered formally the state where you are a legal resident. Therefore, it is not possible to simply cross the border into another state to take advantage of more favourable regulation.
How do online casinos then deal with gamers from the United States?
There are many casinos that simply will not accept gamers from the United States, regardless of the state of residence, as a likely cautionary measure to avoid running afoul of US authorities. High-profile crackdowns in the past have scared off gaming establishments as well as financial intermediaries, so many simply do not wish to take the risk.
That being said, there are many casinos that will accept gamers from the United States and have been doing so safely for quite a long time.
For a list of casinos that accept gamers from the United States, please review: https://latestcasinobonuses.com/casinos/usa
Ok, so I have confirmed that I live in a state where playing Blackjack online is legal and have found a casino that I like and accepts gamers from the United States, but how would I deposit and withdraw money given the UIGEA?
The short answer for this is – that depends on the casino. Check what works for them and reconcile if that works for you. Consider elements such as speed of processing and if there any fees associated with employing certain payment methods.
The UIGEA has made it considerably more difficult for US residents to deposit and withdraw money from casinos. For example, e-Wallet services such as PayPal or Moneybookers, which are commonly used to transfer funds to/from casinos, usually will not work with US residents engaging in online gaming. We recommend US players avoiding these in general.
Most often, players from the US will be able to use debit cards, direct bank wire transfer, checks, and automated clearing house (ACH).