The game of blackjack or 21 is the most popular table game offered in casinos. If you are unfamiliar with the rules of casino blackjack or simply need some clarification on the finer points, you've come to the right place! I will tell you everything you need to know to play the game, and also explain the few rules that can differ from one casino to another.
If you are new to casino table games, it can be a bit intimidating the first time that you sit down at a blackjack table. Everything seems to move so fast, and more importantly, everyone else sure seems to know what they are doing!
Don't worry. It's really quite easy. Follow along, and you'll know exactly what to expect at the table.
---
---
Hopefully I've covered just about everything you need. But if you have other questions, feel free to post a reply at the bottom of the page.
---
While you are here, check out some of our most popular features:
---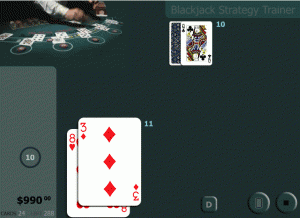 Want to practice? Our free blackjack game lets you play at your pace, and the Strategy Coach provides instant feedback on the best strategy.
---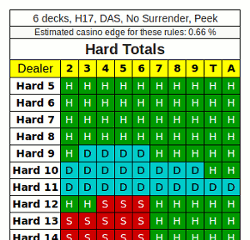 To find the best strategy, use our most popular resource: The Blackjack Strategy Engine provides free strategy charts that are optimized for your exact rules.
If you prefer a plastic card that you can take to the table with you, we have those too: Blackjack Basic Strategy Cards.
---
The original version of this explanation of the rules of blackjack has a very long history here at BlackjackInfo.com. I created and published it here sometime in 1998. It was widely copied by other sites, and it has appeared without my permission on literally hundreds of sites over the years. When I relaunched BlackjackInfo with a new mobile-friendly design in 2014, I took the opportunity to rewrite much of the article, and break it into sections for easier reading on mobile devices.