Blackjack Surrender Explained
Posted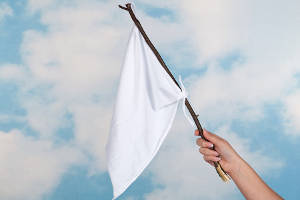 Among the many questions I answer by email, blackjack surrender is a common topic. Because surrender is not offered at all casinos, and is rarely advertised or posted even when it is available, many beginning players don't know much about it.
In this article, I'll explain exactly what Surrender is, what the two variations are, and when you should utilize this option.
What is Surrender in Blackjack?
Surrender is a blackjack option that allows you to fold your hand and receive half your bet back.  Instead of playing out the hand, you can surrender and automatically lose half your bet.  Obviously this is an option that should only be used with really bad starting hands.
Surrender is not offered at all casinos, or even on all tables in the same casino.  It is rarely mentioned on any signs at the table, so you'll generally have to ask the dealer if surrender is allowed.  If you decide to surrender some of your hands, be prepared for some odd looks from the other players.  Most players don't even know what surrender is, and other players mistakenly think that it is always a bad choice.  Still another group of players seem to understand it may have value, but they have some aversion to using the option anyway.  Go figure.
How do I Surrender?
If you want to surrender a hand, you must do so as the very first action on the hand.  If you have already hit, doubled, or split, you won't be allowed to surrender.  There are two different hand signals that are often used for this play.  The most common is to use your finger to draw a horizontal line behind your bet.  You can think of that motion as cutting off your bet. The other version is to hold up both hands, with your palms facing the dealer, as in "I give up."  Because these hand signals are not universal, you should always tell the dealer verbally that you want to surrender.
What is the difference between Early Surrender and Late Surrender?
You may have noticed that our Blackjack Basic Strategy Engine offers three choices for the surrender rule: No Surrender, Early Surrender, and Late Surrender.
First, let me be very clear, especially for people generating strategies with the Strategy Engine…  Late Surrender is far more common.  Early Surrender is quite rare to find.  In fact it is found more often as a mistake by poorly trained dealers than as an intentional rule.  If you're not sure which you need, you definitely want to choose Late Surrender for your strategies.  So what's the difference?
The key here is what happens when the dealer has an Ace or Ten card up.  If you are allowed to surrender your hand before the dealer checks for blackjack, then that is "Early" surrender.  You can see why that would be far more valuable, as it offers a way to get out of a possible dealer blackjack losing only half your bet.
Late surrender is available only after the dealer has checked for blackjack and did not have it.  That's the common rule.
What hands should I surrender?
Now that you know about surrender, don't overdo it.  Some players surrender far more often than they should, costing themselves a lot of money.  Some people mistakenly assume that you should surrender any hand that you are more than 50% likely to lose.  That's not correct.  In fact, a hand needs to lose more than 75% of the time to make surrender the correct decision.  (Winning 25% of the time and losing 75% of the time makes you lose half your bet on average.)
So, which initial hands should you surrender?
Here are the main ones:
Surrender hard 15 against a dealer Ten.
Surrender hard 16 against a dealer 9.
Surrender hard 16 against a dealer Ten.
Surrender hard 16 against a dealer Ace.
If you are playing a game where the dealer hits soft 17, add these surrenders as well:
Surrender hard 15 against a dealer Ace.
Surrender (8,8) against a dealer Ace.
Surrender hard 17 against a dealer Ace. (Yes, surrendering hard 17 against an Ace when the dealer hits soft 17s is the correct play.)
This particular advice is for six-deck games with late surrender.  For specific advice tailored to your exact game, use the Strategy Engine, or purchase one of our Blackjack Basic Strategy Cards.
What's it worth?
The effect of surrender for an accurate basic strategy player is to reduce the house edge by somewhere between 0.07% and 0.09% depending on the other rules of the game.  If you are a $10 bettor, you should save about 50 cents an hour over the long run.  While this improvement is small, every little bit helps.  For a card counter, surrender is considerably more valuable for several reasons.  And, if you manage to find a rare game that offers early surrender, the improvement is about ten times larger, around 0.7%.
Hopefully your next session won't have many hands you can surrender, but it's nice to know when to raise the white flag.  Now, go win some money.