BlackjackInfo's Blackjack Strategy Cards
BlackjackInfo's Blackjack Strategy Cards
The BlackjackInfo blackjack basic strategy cards are available individually, or in a complete set of six cards for the different rules you may encounter. The cards are high-quality durable solid plastic, not laminated. Each card is credit-card sized, except the advanced set which are roughly 4″ X 3″.
---
Set of Six Blackjack Strategy Cards
This set of six blackjack basic strategy cards covers all the common rule variations. Be prepared for any game you might find.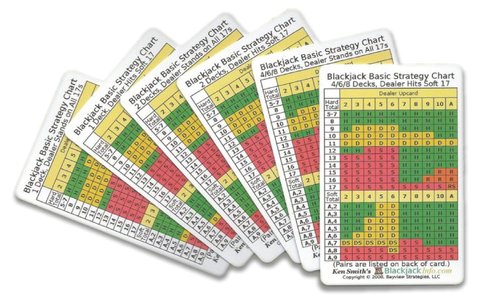 ---
Blackjack Advanced Strategy Card Set
The Blackjack Advanced Strategy Card Set offers basic strategy, plus index numbers for the popular Hi-Lo card counting system. The 12-card set includes 6 different rules sets, each in numeric and "dot" versions.