Guide to Buying Bitcoin for Gambling Online
This is a complete step by step guide on how to convert your money to Bitcoin for the purposes of gambling online (although the same steps can be taken if you are interested in sports betting or playing poker as well.)
It might take a little bit of time to get used to but once you do, it'll make playing at an online casino much more hassle free and seamless.
So without further ado let's dive right in!
Simply put, using Bitcoin is the the most efficient and effective way for US players to play at online casinos. If you're not taking advantage of Bitcoin when transferring money, you are missing out, and here's why:
Anonymity and Safety
For those of you concerned with the ambiguous US laws, the anonymous nature of bitcoin provides an extra layer of comfort.
Unlike regular fiat currency, your personal information is not tied to the transactions you make via Bitcoin so there is no trail that can identify what you purchased.
Furthermore, bitcoin is not regulated or produced by any government or financial institution so it is impossible to have your funds seized or frozen.
No Transaction Fees
Since Bitcoin transactions aren't processed by banks or financial intermediaries, online casinos don't charge money transfer fees on Bitcoin deposits and withdrawals. By reducing fees and helping you keep more of your funds, Bitcoin solves some of the biggest issues that appear when depositing and withdrawing regular, fiat currencies to and from offshore casinos like Bovada and BetOnline.
While we do think Bovada is the best online casino option for US residents, they charge a whopping 5.9% fee on all subsequent credit card deposits (the first is free)! Even worse, fees increase to 9.9% when making an Amex deposit!
When compared to the alternatives, depositing to Bovada using Bitcoin blows the competition out of the water; for example there are absolutely no fees charged by Bovada when depositing funds through Bitcoin.
Processing Speeds
Another avenue where Bitcoin has a dominant advantage over fiat currencies is with payment processing speeds.
If you were to request a withdrawal via check from Bovada (since they don't do direct bank transfers due to the UIGEA), it could take up to a month to be delivered and even then, there's still a possibility your bank won't accept it.
If you were to withdraw using bitcoin instead the transaction process is extremely fast and can take up to 15 minutes.
Now that you've made the decision to reap the rewards of cryptocurrency, it's time to buy Bitcoin from an online cryptocurrency exchange. There are many places to buy Bitcoin with fiat currency, so your choice ultimately comes down to personal preference. I like to use Gemini and go with a nice fix of simplicity and fee minimization, but another easy place to start is Coinbase.
Most all cryptocurrency exchanges charge transaction fees, but they are usually miniscule compared to the amount you'll save when avoiding the money transfer fees of online casinos.
Regarding fees, using Gemini will give you significantly more purchasing power than Coinbase. At face value, the two exchanges appear to have similar rates:
Coinbase takes a minimum conversion fee of 1.49% when buying through a U.S. bank account, while Gemini charges a maximum fee of 1.00%. However, Coinbase also charges all U.S. users an additional 4% fee on deposited amounts (reflected in a higher BTC/USD rate), while bank transfers to Gemini are completely free.
If you want to go with a quicker, more convenient option, you can pay for Bitcoin using a credit/debit card on Coinbase and avoid having to link a bank account, but you'll be hit with a 3.99% conversion fee alongside the Coinbase deposit 'base fee' of 4%. Additionally, you should be aware that some credit card providers may charge additional fees on cryptocurrency purchases.
For visualization purposes, these three options and their fee structures are compared below:
The user interfaces of both Gemini and Coinbase make them good choices for cryptocurrency novices looking to ease into the world of Bitcoin, but just be aware that the (marginally better) convenience of Coinbase comes with a pretty significant cost. Once you're more comfortable with the process, you can always begin exploring other options and using other exchanges. The most important thing here is just to get your hands on some Bitcoin at a fair price. For this reason, I'll focus on buying and selling Bitcoin with Gemini.
Depositing Funds into Gemini
To use Gemini, you will need to create an account, verify your identity, and link a bank account. This took me about a week in late 2017, but Gemini may have become more efficient in their verification process. However, once you have everything set up and verified, using Gemini will be much quicker for future transactions.
Once you've registered and your details have been verified, you will need to deposit funds to your account.
[TRANSFER FUNDS > Deposit into Exchange > USD (Bank Transfer)]

You will need to select your funding source (linked bank account) and enter your desired deposit amount in USD. Then, click the 'REVIEW DEPOSIT' button.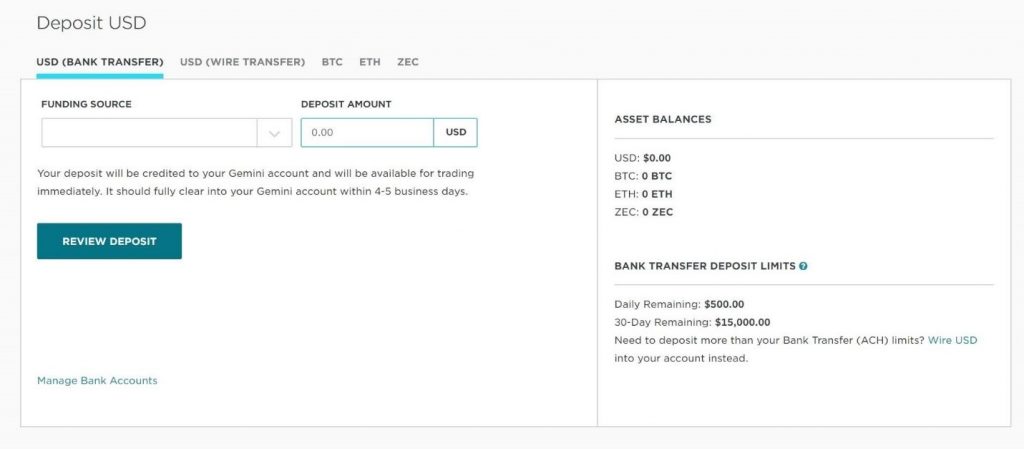 A breakdown of your deposit request will appear. Make sure all information is accurate and press 'CONFIRM' to authorize the USD deposit.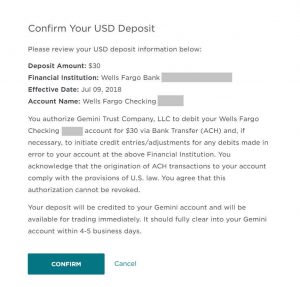 Deposit amounts may be immediately available for trading in Gemini—meaning you are ready to convert USD to BTC. However, funds will typically take 4-5 business days to clear from your bank account to Gemini, and you won't be able to withdraw BTC to an off-exchange wallet until this occurs.
At this point, I recommend waiting for your funds to clear and then proceeding to purchase Bitcoin or setting a low, limit order that has a chance of being met while you're waiting. If you'd like to risk the volatile price swings of BTC, however, feel free to exchange USD to BTC, and vice-versa, whenever you please, but be aware that there are 1% conversion fees associated with each trade, and the price of Bitcoin could plummet at any moment.
Buying Bitcoin on Gemini
Once funds clear from your bank account to Gemini, it's time to convert your funds to BTC.
[BUY > BTCUSD]

On the right side of the screen, you will see several variables that determine how your buy order is placed. For the optimal mix of simplicity and value, I recommend placing a 'Limit' order, meaning that you will pay no more than the price you enter in the following field. Try choosing a price that is slightly lower than the current going rate, and wait a few minutes for your order to be met.
If you'd like to quickly buy at the current market rate, however, you can place a 'Market' order, disregard price and quantity, and simply enter the total amount of USD you wish to convert to BTC; the other fields will be automatically filled in.
When you're ready, click 'BUY'.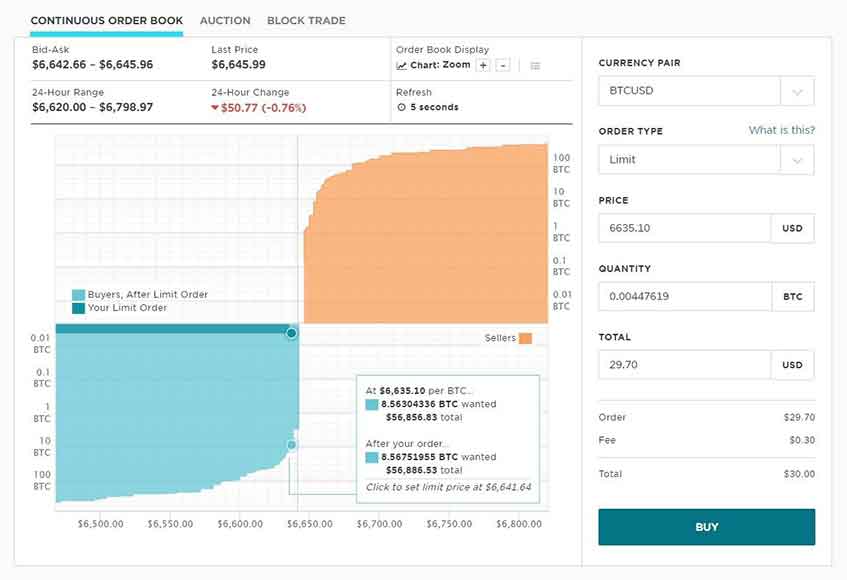 You will be prompted to confirm your order. Review all the information, and select 'CONFIRM' if everything looks good.
If you scroll down, you can view your order status.

Once the order has been filled, you'll have successfully purchased BTC, and it's time to transfer your cryptocurrency to an off-exchange wallet.
So, you've bought Bitcoin, but it's still not really yours until you get it off the centralized exchange you bought it from. By leaving your cryptocurrency stored on an online exchange like Gemini or Coinbase, you compromise the security of your funds and lack control. With Bitcoin and other cryptocurrencies, holding the private key associated with your wallet is critical, and exchanges don't afford that access. But wallets do.
It's much safer to transfer Bitcoin directly into your own cryptocurrency wallet before using it to make a casino deposit. For more information on why you shouldn't leave your Bitcoin in an exchange, click here.
For online gamblers in particular, there is also the chance that your exchange account will be suspended(especially if you use Coinbase) if they detect you are transferring funds to a casino. You might be thinking "but isn't Bitcoin anonymous?!". Well not entirely. If you transfer directly from an identity-linked exchange, like Coinbase or Gemini, they can track whether transactions are going towards an online casino by keeping an eye on the deposit addresses provided.
However if you add the extra step of transferring Bitcoin to your own wallet first, then it is much more anonymous, and no one will be able to tell what products or services you are purchasing with your bitcoin.
Obtaining a Bitcoin Wallet
A Bitcoin wallet is essentially a software program that gives you total ownership and control of the Bitcoin you just purchased.
Technically it doesn't store the Bitcoin itself but it stores a private key that is used to identify your ownership of the Bitcoin.
There are multiple types of Bitcoin wallets and mainly come in desktop, mobile, web, and hardware-based forms. There are many options but to keep things simple, we recommend using Electrum which is free, safe and easy to use. If you have any issues with installing Electrum you can visit this guide here
From your Electrum wallet, there is a 'Receive' tab, which gives a long value in the 'Receiving address' field.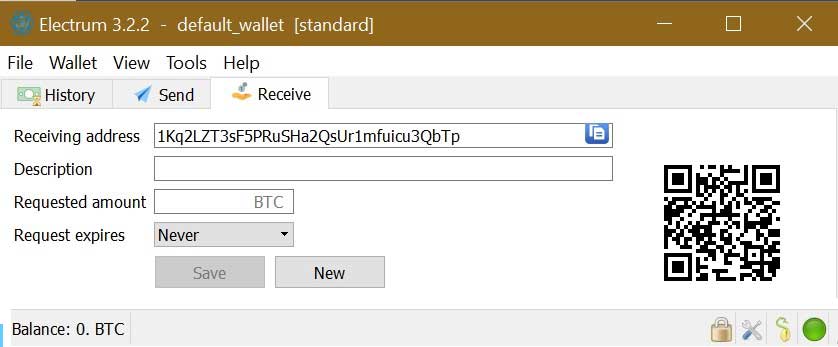 You'll be using this value to send Bitcoin from Gemini to so make sure you copy it EXACTLY otherwise you will end up sending BTC to the wrong person or into no man's land; Bitcoin transactions are irreversible.
Now, renavigate to Gemini to withdraw your BTC from the exchange and send it to your Bitcoin wallet.
[TRANSFER FUNDS > Withdraw From Exchange > BTC]

Then, input the address you just copied into the "DESTINATION ADDRESS" box, and then enter the amount of BTC you want to send/withdraw. When you're ready, click the 'REVIEW WITHDRAWAL' button.

Double check that your address matches up, then confirm the withdrawal.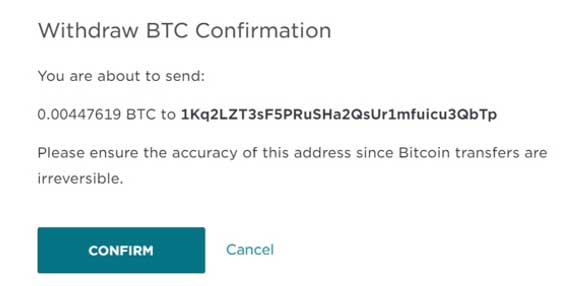 After confirming the transaction, you should now see it appear in your Electrum wallet within minutes.
It will probably be unconfirmed on the Bitcoin network, however, meaning that you will have to wait for more Bitcoin network confirmations before having access to the funds. This process should only take a few minutes. When everything is cleared, you will be notified of the confirmation and ready to deposit your BTC to an online casino.

This is a very similar process to what you just did in the previous step when transferring funds from the exchange to Electrum. However, this time you're going to transfer from Electrum to the online casino's wallet address.
First, login to the casino you choose to play at (For the purposes of this tutorial, I am using Bovada, which I recommend for U.S. players).
After you are signed into Bovada, click 'DEPOSIT' from the upper corner of the site.
Select 'Bitcoin' as the deposit method, provide your personal information, and then click 'SAVE AND CONTINUE' to verify your identity and activate the payment method.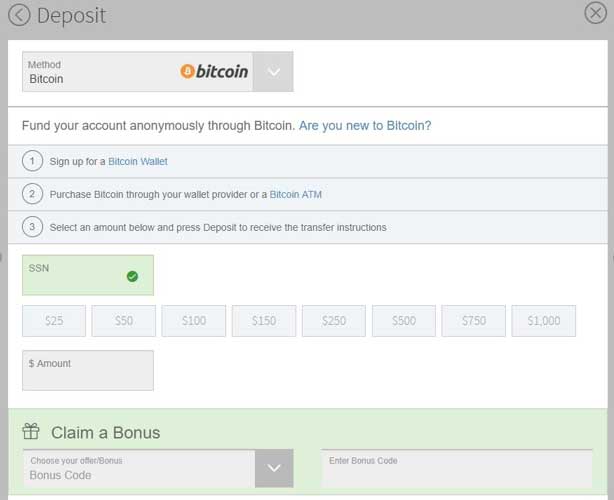 Entire your desired deposit amount and continue by pressing the 'DEPOSIT' button at the bottom of the form.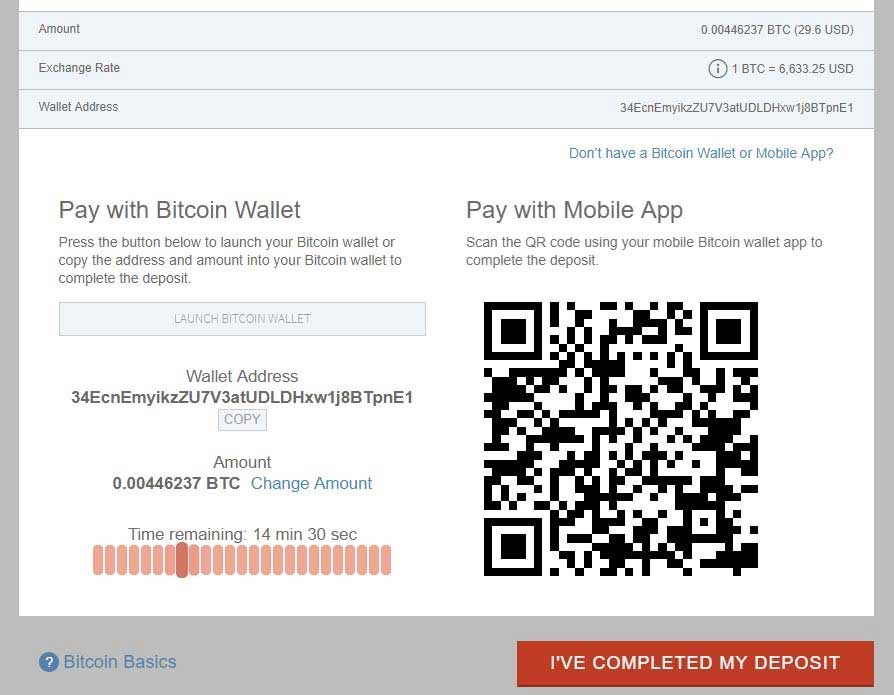 Review all information before copying the wallet address, which is a public address that you can use to send your BTC to Bovada. Once you've copied the address, open your Electrum wallet and navigate to the 'Send' tab.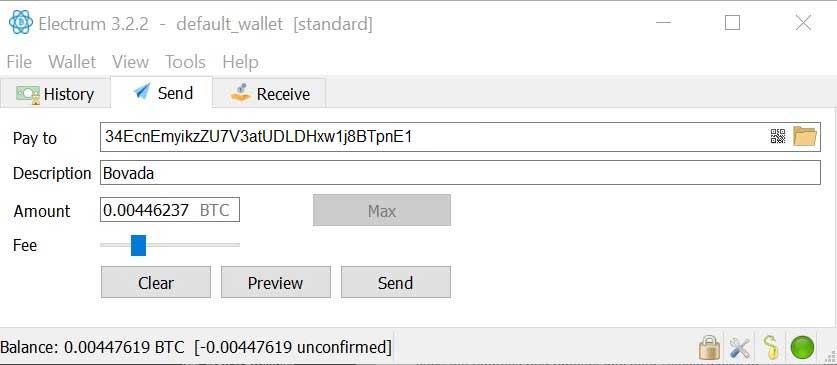 Paste the provided wallet address into the 'Pay to' field. Then, input the appropriate amount of BTC and a description if you'd like. You can also adjust the Bitcoin network transaction fee by moving the slider; transactions with higher fees typically process faster, as these fees are what are used to reward Bitcoin miners for adding transactions to their blocks (and effectively confirming them).
You might have to wait a few minutes for enough confirmations to unlock your deposited funds, but funds should be available for use in your Bovada account almost instantaneously.
With your casino account now funded via Bitcoin, you are ready to play!
When it comes time to withdraw your Bitcoin from an online casino, make sure you do it straight back into your Electrum wallet, similar to the way described above.
Request a withdrawal from your online casino using 'Bitcoin' as the payment method. On Bovada, you will be asked to provide a wallet address, your mother's maiden name (oddly enough, the only security option available), and a withdrawal amount.
If you are unsure of your wallet address, you can open Electrum, and navigate to the 'Receive' tab. Your wallet address will be shown in the 'Receiving address' field; copy this for later.
Back at the online casino, enter all appropriate information, using your Electrum wallet address as the withdrawal destination.
Do NOT withdraw back into your exchange account!
As mentioned previously, it's possible for exchanges to detect withdrawals from casinos, and they can potentially close your account down.
As such, you should always be making deposits and withdrawals from your personal Bitcoin wallet.
When you're ready, request the withdrawal. You will see confirmation of your request.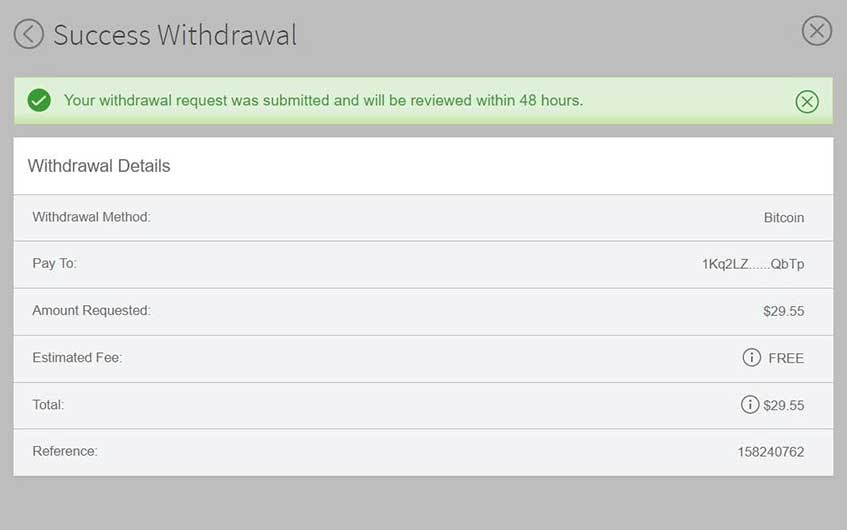 At this point, you may need to wait up to 48 hours for Bovada to approve your withdrawal request and actually send BTC to your Electrum wallet address.
You should receive a confirmation email when the BTC withdrawal is approved and officially sent by Bovada. When the time comes you should be able to see that the appropriate amount of BTC has arrived in your wallet.
At some stage, you may want to convert your Bitcoin back into fiat currency, which involves using an exchange like Gemini or Coinbase, as we have used so far in this guide. Converting BTC back into fiat currency pretty much follows the reverse process of converting fiat currency into BTC.
You can easily do this by transferring BTC from your wallet to an exchange, selling BTC for USD, and then transferring USD to your bank account, but be aware that further fees are charged on each transaction: 1% on Gemini, and 1.49% on Coinbase.
If you're looking to reduce fees, you can try registering for Coinbase Pro (which used to be called GDAX), which is a cryptocurrency exchange that allows you to sell Bitcoin to USD on the market without transaction fees.
After you request a USD withdrawal on any exchange, it should take a few days for funds to process and reach your bank account.
So in summary the process for depositing to an online casino is:
Bank Account Exchange Wallet Casino
To withdraw from a casino the process is:
Casino Wallet
To transfer funds back into your bank account the process is:
Wallet Exchange Bank Account
It's a finicky process, but hopefully you've been able to get through it without any problems. It's definitely the best way—especially for US players—to get your money in and out of a casino.
If you're stuck on any of the steps or have suggestions on how we can improve this guide, leave a comment below.