Medellin, a Blackjack Paradise
Posted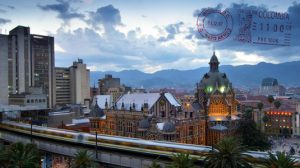 Meistro has been a regular contributor on the BJI forum for many years. If you would like to ask him a question you can leave a comment below or on the forum
Nestled in the Andes, Medellin is a magnificently temperate city highlighted by a gorgeous backdrop of mountains. With great food, cheap transportation, inexpensive accomodations, and some of the best blackjack games in the entire world, this city should be on the short list of any vacation destination. Don't be thrown off by Colombia's notoriety, the days of Pablo Escobar and the dominance of drug traffickers are long behind this beautiful South American nation. The modern Colombia is clean, safe and offers tourists a warm welcome.
The reason why blackjack games in Medellin are so great is that they have the early surrender rule. Being able to "retiro" your stiffs before the dealer checks for blackjack is a tremendous advantage for the player. In fact, the games are so good, that in many parts of the city there is no initial casino advantage. The full rules are as follows.
DAS, DA2, ENHC, ES, RSA. S17 and H17 varies, but H17 is more common.
Most of the casinos with blackjack games are located in the upscale El Poblado neighborhood of Medellin. This tourist district has a large concentration of centro commercials (malls), as well as upscale restaurants and fancy hotels. Accommodations in this area are expensive by Colombian standards but reasonably priced compared to what you would pay for similar lodgings in any Western city. If you choose to stay in El Centro (downtown) on the other hand, you can find a nice hotel room for fourteen dollars, but the beds are a little hard and you will not want to go walking around at night.
Here is a list of casinos with shoe games in Medellin. This information is from 2016.
Casino Rio,
Gran Casino Medellin,
Casino Hollywood, shoe game only in high limit, may need to request it be opened
Casino San Fernando,
Casino San Remo,
Note, all of the Casino Havanas and the Casino Caribe in El Centro were CSM only.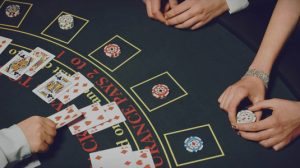 Poker games can be found during the week at Casino Rio and Casino San Fernando.
Table limits are generally quite low in Colombia. It is not uncommon to see max bets of less than one hundred American dollars. This is not quite as big a problem as might first appear because the games are so good that you can generate a significant hourly with this low maximum bet. The SCORE on Colombia games is ninety to one hundred because they generally have reasonable penetration and always an incredible ruleset. You also have a substantial advantage in these games at true count plus one, around point seven percent player edge, again because of the rules. Being able to generate a significant amount of expected value with low table maxes means you can make the same amount of money with a significantly smaller standard deviation or risk of a big downswing. It is also possible to find games with table maximums the equivalent of one hundred and sixty dollars or even one that was over three hundred.
A lot of the casinos in Medellin run early bird promotions where you get some matchplay chips if you change the equivalent of thirty dollars. It is worth noting that these chips are completely lost if you surrender along with half of your actual bet, so the proper play is to never surrender a matchplay hand.
It is also important to appreciate that you cannot bring in or leave Colombia with over ten thousand American dollars or the combined equivalent of other currencies. Entering or leaving the country with more than this money risks you being subjected to a twenty percent fine of the total amount. One potential solution to this problem is the use of bitcoin to evade the currency controls.
Transportation in and around Medellin is quite cheap. Taxis are seldom more than a few dollars, even for longer trips, and tipping is not expected. Taxis are quite safe and honest, although you may encounter some issues with the language barrier if you do not speak Spanish. Google translate and google maps on your phone with a Colombian sim card can be a lifesaver. A taxi from the airport to the city takes about one hour; it's a bumpy ride through the mountains and you might end up getting a little bit seasick. There is a peso flat of the equivalent of fifteen American dollars or you can take the bus which is significantly cheaper. You will need Colombian pesos as the dollar is not accepted anywhere in Colombia, but there are plenty of exchange places or "Cambios" that will give you a good rate, and you can always take money out of the ATM as well. Don't use casino ATMs, because they charge significantly more, instead go to a bank or a shopping mall.
If you like traveling to exotic locales, meeting friendly people, and playing some of the best blackjack games on this planet, then Medellin is for you. If you book a month or so in advance you can often find one-way tickets for less than two hundred dollars from major American destinations. Colombians are decent, honest and friendly people and it is truly a wonderful country to visit.