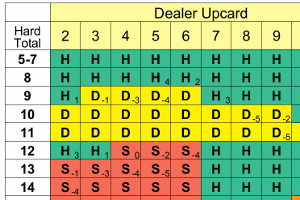 Once you have basic strategy committed to memory, and you have learned to count cards and vary your bet, the next step in fine-tuning your game is to add strategy variations using index numbers.
When I first began to learn about strategy variations, I found them confusing.  Based on the number of emails I get on the topic, I know that I am not the only one.
I was especially confused about the way indexes are presented.  I thought I could see a better way.  But eventually I switched to the standard method, and it definitely has its benefits.