---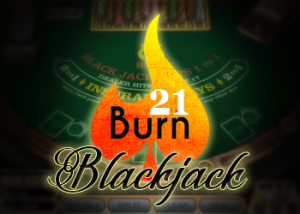 Unique to casino software provider BetSoft, 21 Burn is a blackjack variation that is quite different from the normal version you'll find at online casinos.
The biggest difference is the new option to "Burn" your second card in exchange for a new random card which presents some new strategic elements.
How to Play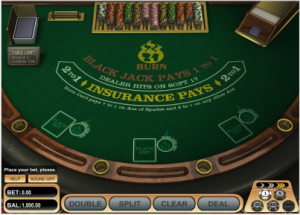 This is a multi-hand blackjack variation that allows you to play up to 3 hands at once with the objective being to beat the dealer's hand without busting.
There are 6 decks used in total, blackjack only pays 1:1 (instead of the usual 3:2), you can double on any 2 cards and the dealer must hit on a soft 17.
How the Burn card option works
You are initially dealt two cards as usual however there is a third face-down given which is the Burn Card. Now if you are not happy with your second card, you can opt to replace it with the Burn Card at the cost of increasing your bet by 50%.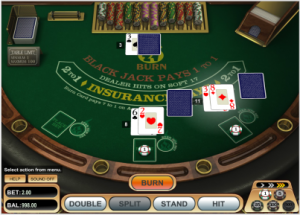 The pay table for utilizing the burn card is as follows:
| Burn Card | Pays |
| --- | --- |
| Ace of Spades | 7 to 1 |
| All other Aces | 2 to 1 |
| Other cards | Loss |
Burn Card Strategy
In general, the burn mechanic seems quite negative since you need to wager 50% of your original bet. There is some great discussion over how this affects the house edge on the WizardOfVegas forums
The Wizard himself recommends using the following strategy table for choosing when to use the burn card option. Do not burn any other option outside of this table:
Dealer
Card 1
Card 2
2
3
4
5
6
7
8
9
T
A
7
2
N
N
N
N
N
N
N
N
N
N
7
3
N
N
N
N
N
N
N
N
N
N
7
4
N
N
N
N
N
N
N
N
N
N
7
5
N
N
N
N
N
N
N
N
N
N
7
6
N
N
N
N
N
N
N
N
N
N
7
7
N
N
N
N
N
N
N
N
N
N
7
8
N
N
N
N
N
Y
N
N
N
N
7
9
N
N
N
N
N
Y
N
N
N
N
7
10
N
N
N
N
N
N
N
N
N
N
7
A
N
N
N
N
N
N
N
N
N
N
8
2
N
N
N
N
N
N
N
N
N
N
8
3
N
N
N
N
N
N
N
N
N
N
8
4
N
N
N
N
N
Y
N
N
N
N
8
5
N
N
N
N
N
Y
N
N
N
N
8
6
N
N
N
N
N
Y
Y
N
N
N
8
7
N
N
N
N
N
N
N
N
N
N
8
8
N
N
N
N
N
N
N
N
N
N
8
9
N
N
N
N
N
N
Y
N
N
N
8
10
N
N
N
N
N
N
N
N
N
N
8
A
N
N
N
N
N
N
N
N
N
N
9
2
N
N
N
N
N
N
N
N
N
N
9
3
Y
Y
Y
Y
Y
Y
Y
N
N
N
9
4
Y
Y
Y
Y
Y
Y
Y
Y
N
N
9
5
Y
Y
Y
Y
Y
Y
Y
Y
N
Y
9
6
Y
Y
Y
Y
Y
Y
Y
Y
Y
Y
9
7
Y
Y
Y
Y
Y
Y
Y
Y
Y
Y
9
8
N
N
N
N
N
N
Y
Y
N
Y
9
9
N
N
N
N
N
N
N
N
N
N
9
10
N
N
N
N
N
N
N
N
N
N
9
A
N
N
N
N
N
N
N
N
N
N
10
2
Y
Y
Y
Y
Y
Y
Y
Y
Y
Y
10
3
Y
Y
Y
Y
Y
Y
Y
Y
Y
Y
10
4
Y
Y
Y
Y
Y
Y
Y
Y
Y
Y
10
5
Y
Y
Y
Y
Y
Y
Y
Y
Y
Y
10
6
Y
Y
Y
Y
Y
Y
Y
Y
Y
Y
10
7
Y
N
N
N
N
Y
Y
Y
Y
Y
10
8
N
N
N
N
N
N
N
N
N
N
10
9
N
N
N
N
N
N
N
N
N
N
10
10
N
N
N
N
N
N
N
N
N
N
10
A
N
N
N
N
N
N
N
N
N
N
A
2
Y
Y
Y
Y
Y
Y
Y
Y
Y
Y
A
3
Y
Y
Y
Y
Y
Y
Y
Y
Y
Y
A
4
Y
Y
Y
Y
Y
Y
Y
Y
Y
Y
A
5
Y
Y
Y
Y
Y
Y
Y
Y
Y
Y
A
6
Y
Y
Y
N
N
Y
Y
Y
Y
Y
A
7
N
N
N
N
N
N
N
Y
Y
Y
A
8
N
N
N
N
N
N
N
N
N
N
A
9
N
N
N
N
N
N
N
N
N
N
A
10
N
N
N
N
N
N
N
N
N
N
A
A
N
N
N
N
N
N
N
N
N
N
Software Providers that have 21 Burn
| Software | BJ Pays | Soft 17 | Double | Re-Split Aces | Surrender | House Edge | Total Decks |
| --- | --- | --- | --- | --- | --- | --- | --- |
| BetSoft | 1:1 | Hit | Any 2 | No | No | 0.54% | 6 |
---
Other Online Blackjack Variations