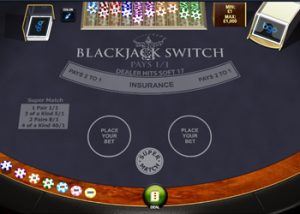 Blackjack Switch is a game that is available through Playtech that has enjoyed considerable success in brick-and-mortar casinos and was created by Geoff Hall.
In the game of Blackjack Switch, the player must make two bets of equal size, and as a result of doing so, shall be dealt two hands upon which the player has the ability to switch the second card of each hand to the other hand.  The downside is that a Dealer total of 22 results in a push against all non-busted hands while a natural results in even money.  However, with the Playtech version of the game, a switched Blackjack is an immediate winner.
Ultra-Low House Edge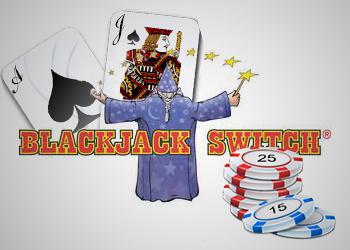 For example, if a player starts out with a four on one hand and a ten on the other, but then the hand that started with a four catches an Ace and the hand that started with a ten-value card catches a seven, the player can switch the Ace and the seven to end up with an immediately winning Blackjack on one hand, as well as a total of hard eleven on the other that is a hand upon which a player will often double down.  In other words, two hands that are not terribly great become an automatic winner and the best double down potential hand that anyone could ever ask for.  Furthermore, Playtech actually spreads a very liberal version of this game with an ultra-low House Edge of 0.17% with Optimal Play.
Online Better Than Land-Based
The bottom line is that Blackjack Switch is an awesome game with an awesome hook, and online casinos powered by PlayTech offer an awesome house edge the likes of which one is unlikely to find in a brick-and-mortar casino.  This truly represents one of the few times that online Blackjack comes with more liberal rules than not just most land-based casinos, (as is usually the case) but rather, than almost all of them!
Low Variance
The game of Blackjack Switch is also fairly low variance, so the player should be able to play for awhile with a relatively small bankroll relative to the bet amount.  Granted, there is more variance than playing a single hand of regular Blackjack for half of the total amount bet on Blackjack Switch, but much like Blackjack, the Switch version remains a relatively low variance game.
Software Providers that have Blackjack Switch
| Software | BJ Pays | Soft 17 | Double | Re-Split Aces | Surrender | House Edge | Total Decks |
| --- | --- | --- | --- | --- | --- | --- | --- |
| Playtech | 1:1 | Hit | 9 to 11 | No | No | 0.14% | 6 |
---
Other Online Blackjack Variations