For those of you who think a pontoon is nothing more than a haphazardly constructed party boat that has a better than average chance of resulting in the revelers suffering third degree burns as a result of an electrical fire, think again, it is also a variation of the game of Blackjack!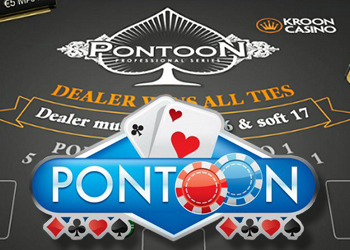 Pontoon is almost different enough from Blackjack that it could rightfully be considered its own game, however, I will defer to the majority of websites out there that consider it a Blackjack variation. In fact, Pontoon itself comes with quite a few rule changes and variations about which we may do a page in the future, but for the time being, we will take a look at the version of Pontoon that is powered by Microgaming software as well as by many other online casino software companies.
The first rule variation that is a major enticement to players is that any five-card hand or a pontoon (which is the same as a Natural) pays 2:1, with that being the case even if the player splits. In standard Blackjack, as most people know, a Natural pays 3:2, but if the player splits aces or tens and catches the opposite, then that is no longer considered a Natural and only counts as a twenty-one total.
The catch is that there is no dealer upcard, which leaves players essentially, 'Playing in the dark,' and moreover, the dealer wins on ties. The rules become increasingly complicated from there:
First of all, the player may stand on any total that is fifteen or more, or alternatively, on any hand which has a total of five cards regardless of the sum of the values. The player may also choose to double, however, the player may only make this decision once per hand, or alternatively, after splitting for each split hand. If the player decides to double, then the player may hit afterwards and is in fact required to if the sum of the hand is less than fifteen and the player does not yet have five cards.
After this has been completed, the dealer will reveal both of his or her cards and will continue to hit until he or she has a hand total of seventeen, or more, while hitting on soft seventeens. Alternatively, the dealer may stop hitting when he or she ends up with a total of five cards. The dealer's hand is compared to the player's hand, and the player loses all ties, moreover, a player who busts, of course, automatically loses. In addition to the Pontoon, a player who wins with a five-card hand will also be paid 2:1 while all other wins will be paid even money.
While Blackjack can rightfully be considered a somewhat, 'Mechanical,' game given that a player plays according to an Optimal Strategy based on what he or she may have against the dealer's upcard, it can rightfully be said that Pontoon is even more mechanical because there is no dealer upcard against which a player makes his or her decisions. To wit, in the game of Pontoon, a player simply plays according to the cards that were dealt to him or her.
However, Pontoon can definitely be a fun variation on Blackjack for those who have never played it before, and one has got to love the low house edge, (particularly on the Playtech version) but with that being said, it can quickly become somewhat tedious for many people due to how mechanical in nature the game can become.
Furthermore, due to the low variance as well as the low house edge, Pontoon is often excluded from counting towards the Wagering Requirements when playing a casino bonus, or alternatively, the playthrough requirements might be similar to those on Blackjack games available at an online casino.
With all of that said, for a player who has never played Pontoon before, it is definitely a variation that we would encourage all players who enjoy Blackjack to try at least once, as it is possibly one of the most unique variations out there.
Software Providers that have Pontoon
---
Other Online Blackjack Variations